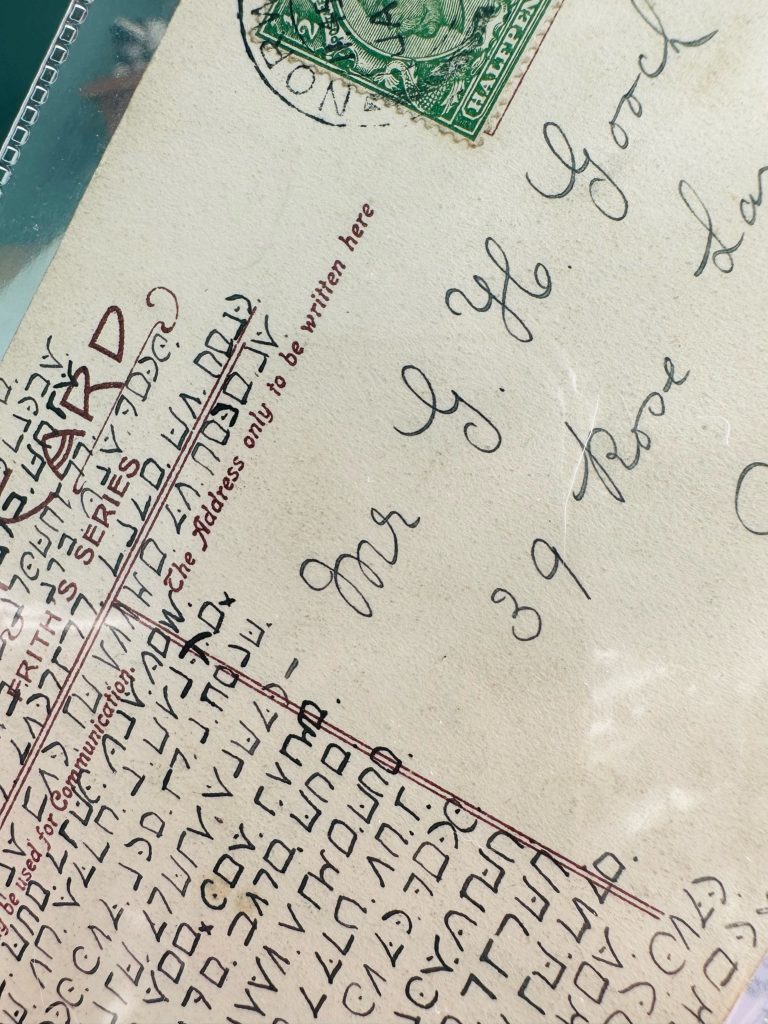 Today 01 October 2022 is World Postcard Day – so I've written this blog about one if my more interesting postcards
Occasionally I buy postcards from eBay, generally vintage postcards that been written on and then posted. Postcards give a great insight into the social history of the day. Some are short, a sentence or two, and others have a lot of details about a trip or something particular happening at that time. They are almost like the twitter of the past – a few characters about what is happening that day, or thoughts on a trending topic.
I've bought postcards from places my ancestors came from, postcards with names linked to my family and then just any that just takes my fancy (and generally if they are 'cheap', there is a monetary limit to my fascination with postcards and I'm not a 'collector' as such).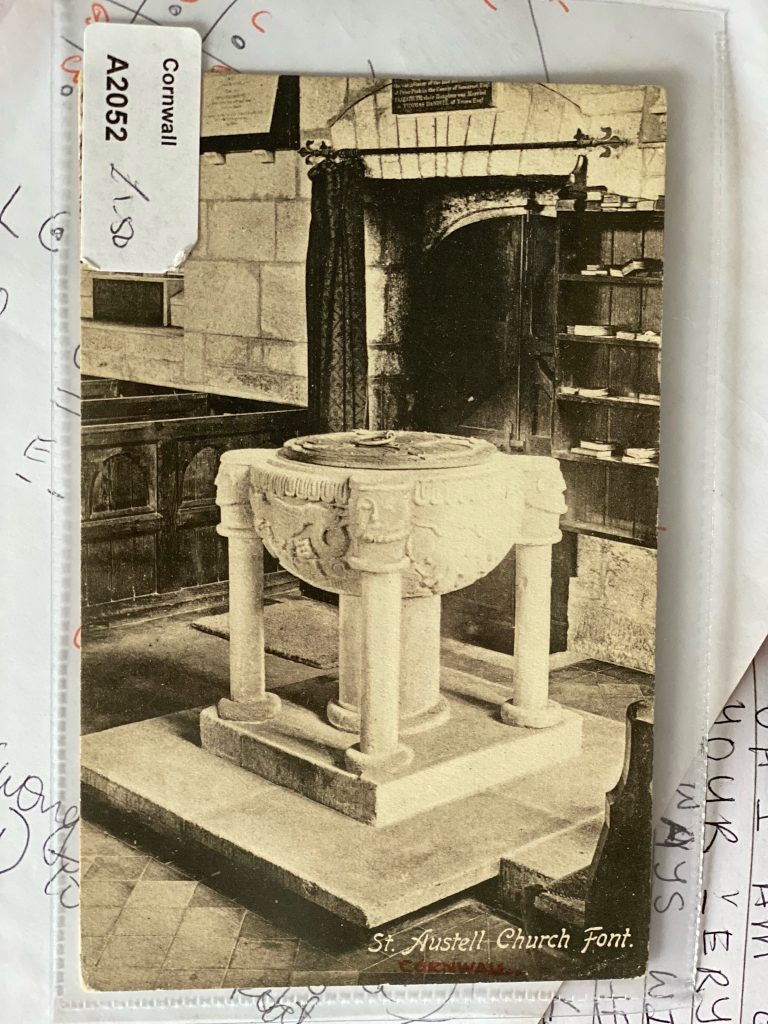 Earlier in September I spotted a card from St Austell (1913) and I looked at it with interest as my paternal grandfather's mother's family come from that area, they were tin miners before emigrating to New Zealand in the late 1800s. On eBay I could see the writing on the postcard looked like a load of signs and scribbles and had been sent to an address in Norwich, so I bought it to take a closer look. The postcard itself is one of the "Frith's Series" published by F. Frith & Co Ltd (this was the company founded to publish Francis Frith's photos as postcards after his death).
Once the postcard arrived a closer examination of the "writing" was that it appeared to be some sort of code or cipher. A quick google and it looked like something called a "Pigpen" cipher, or sometimes called Masonic or Freemasons cipher (https://en.wikipedia.org/wiki/Pigpen_cipher) I was visiting with a friend that night and talking genealogy with her daughter, I showed them the card and the young genealogist immediately recognised the cipher (she is a real super-sleuth) and sent me some details to help me start de-coding. It was the pig-pen cypher I had seen on my first quick google. But now I had a plan and something to work on to figure out what this message was.

=> If you want to have a go at cracking the code – stop reading here, and come back to compare with my decoded message later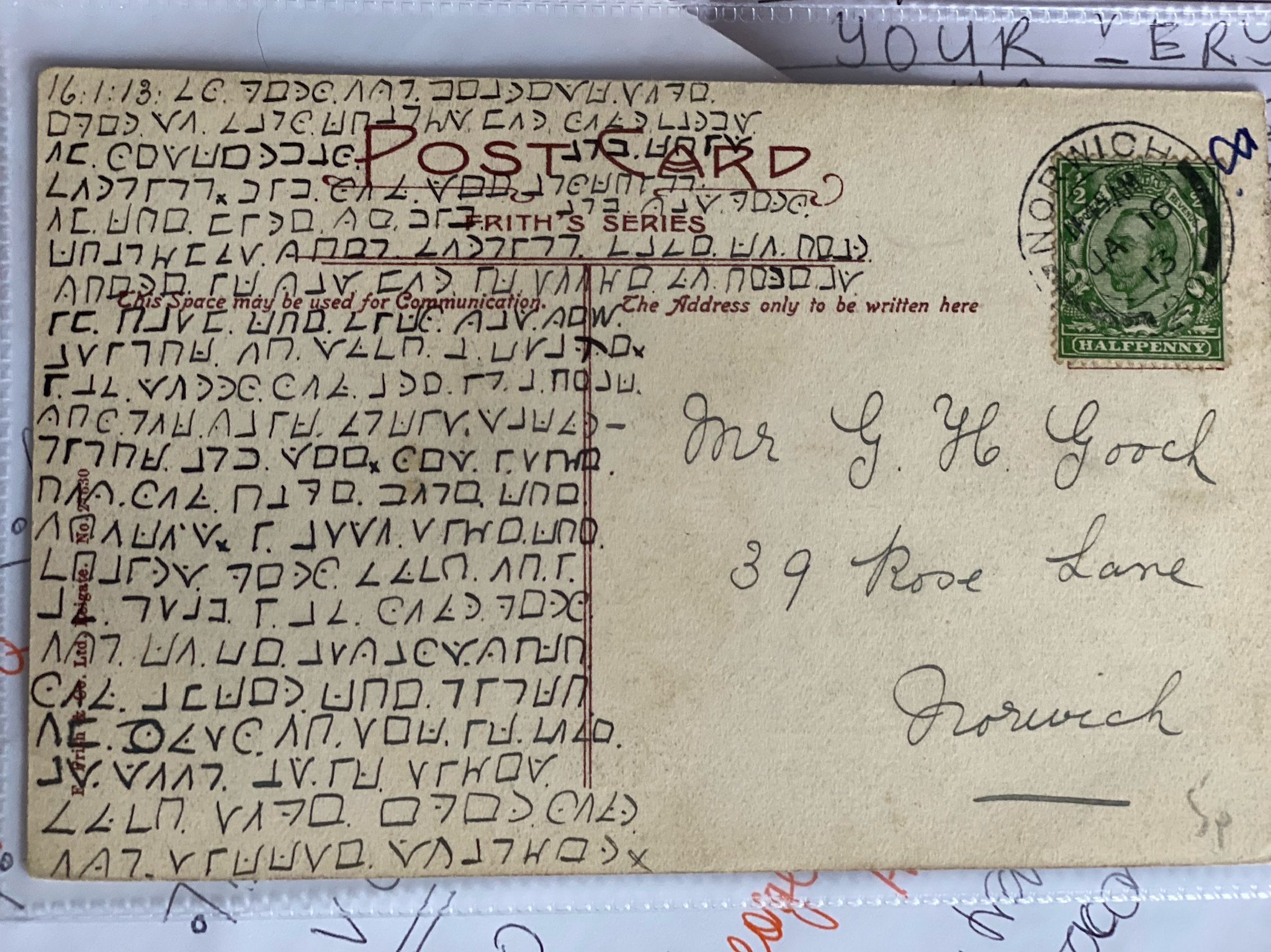 My first attempt at at de-coding did not go too well as the pigpen boxes did not seem to align in a way that sensible words were forming, it was also difficult to establish what was a L type shape vs a V type shape given the way they were written by hand. At least the address was written in a very neat hand so I decided to look up the man the postcard was sent to. Given I do a lot of Genetic Genealogy I'm used to working with private and unsearchable trees at Ancestry. I have a tree called "Postcards" so if I want to dig into a sender or receiver of a postcard, I just start a new floating branch in the tree and start researching who the person is. The postcard was sent to Mr G. H. Gooch, 39 Rose Lane, Norwich.
To start working out who Mr Gooch was I went to FindMyPast because there I can look up the 1911 census by address (bearing in mind the postcard was dated 1913). There I found 39 Rose Lane and the entry was transcribed as "George Huckle GOOK". So I checked the actual image and sure enough it was Gooch but just badly transcribed, while I was there I reported the error and FindMyPast have now fixed their transcription. George Huckle GOOCH was living at Rose Lane on his own and his occupation was listed as a tobacconist.

I could now get an estimate of George's age from the census, he was 34 years old in 1911 and therefore about 36 when he received this unusual postcard. Ten years before that he was recorded in the 1901 census as a 24 year old and living at this time with a border Albert GIRLING.


As I worked up George's family tree I later found that his sister Gertrude GOOCH married Albert GIRLING. George Huckle GOOCH was born 9 July 1896 in Norwich, Norfolk, to John Harrington GOOCH (1846-1927) and Mary HUCKLE (1846-1924). He married Margaret TOWNSEND (1884-1926) in 1913 (which was interesting as that was the year in which this postcard was sent). Margaret was younger than George and they went on to have 5 children. Now I had a bit more context around the person receiving the postcard I needed to get back to trying to decipher it.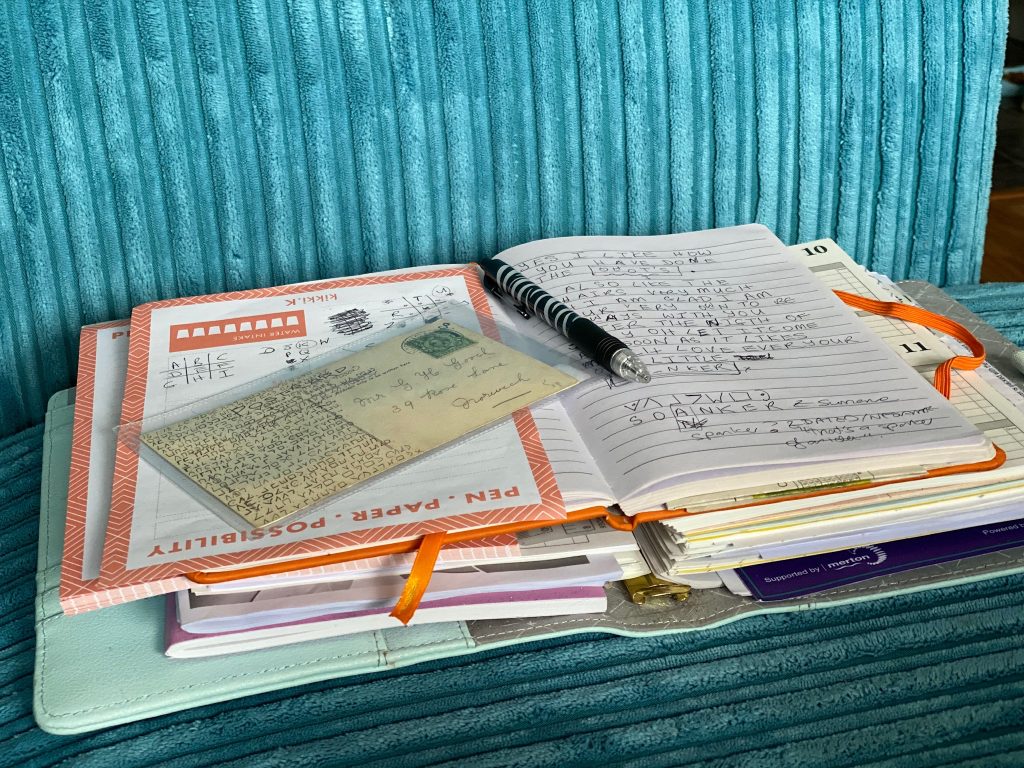 I loved codes when I was a kid, I used to read about them and learn how to crack various (simple) codes. Perhaps my love of DNA & Genetic Genealogy stems from the same thing, cracking the DNA 'code' to find out who someone really is. One of the first things that can be done with codes is to recognise any patterns that might be specific words, like the opening word of the postcard might be "To" or "Dear", one letter words might be "I" or "a" for example. This might help me place specific letters into the pig-pen outline. The code words did have a tiny dot between each word and an small 'x' at the end of what appeared to be a sentence.
I started to just mark out what letters I thought I could figure out, the first word on the card likely to be "To" and then any two letter words with the 'T' character might be "it" or "at". Slowly a message started to appear and the story was coming to life in front of me. I worked out that the first 9 characters of the alphabet were in the first pigpen box, so I could fill in all the A's through to I's being careful to spot where the code letter was slanted and not muddle it up (some were difficult!). Then I could fill in some gaps where it was clear what the word was, and as sentences started to make sense I could de-code further characters especially where it could be only one word e.g. "blaze".

Here is my attempt at deciphering the card
16.1.13 TO MY DEAREST LOVE EVER SO MANY THANKS FOR YOUR CARDS OF YESTERDAY AND THIS MORNING. DID YOU SEE ANYTHING OF THE FIRE WE DID AND WAS VERY THANKFUL WHEN M0RNING CAME TO HEAR WHERE IT WAS FOR IT LOOKED UP HERE AS IF HALF THE CITY WAS WELL ALIGHT OH SUCH A BLAZE. I AM SORRY YOU ARE IN A HEAT WHY NOT WAIT UNTIL SATUR-NIGHT AND SEE. YES I LIKE HOW YOU HAVE DONE THE PHOTO'S. I ALSO LIKE THE CHAIRS VERY MUCH OH I AM GLAD I AM YOUR VERY OWN TO BE ALWAYS WITH YOU AFTER THE NIGHT OF JULY OH LET IT COME AS SOON AS IT LIKES MUCH LOVE EVER YOUR OWN LITTLE SPANKER.
There are some odd sayings here (at least to me), particularly "in a heat". One website suggests this to be "in a stew" or "a confusion of mind". This seems likely to be the meaning here. The other unusual sign off is "your own little spanker". Whilst this might conjure up images of "Fifty Shades of Grey" it's more likely to be used as a noun for "a very fine person or thing" which is dated informal language. (I would also add it is probably best not to go googling "spanker" too often). Of course I may just have decoded this wrong. Other ideas welcome.
Could this be from Margaret who went to become George's wife. I was unable to establish exactly who it was from via the card itself but as it mentions being together in July and Margaret & George were married on 9 July 1913 I think it must be Margaret writing. Their marriage certificate gives George Huckle GOOCH bachelor 37 years old, a tobacconist from 39 Rose Lane married Margaret TOWNSEND a spinster 29 years old from 55 Northcote Road.

Margaret was the daughter of William TOWNSEND (1858-1920) a railway servant, and Emma GOODINGS (1860-1908) both from Norwich. Sadly Margaret died 20 July 1926, at only 41 years of age and her death certificate shows she had TB. She is buried in the Rosary Cemetery in Norfolk (O/194/3) and later with her husband George who died 16 February 1960.


The postcard mentions a fire, so no good research would go by without investigating what fire that was. I looked through the British Newspaper Archive and found a newspaper article from the day the postcard was sent. It reported on a "Big Norwich Factory Fire"where a boot factory was completely destroyed.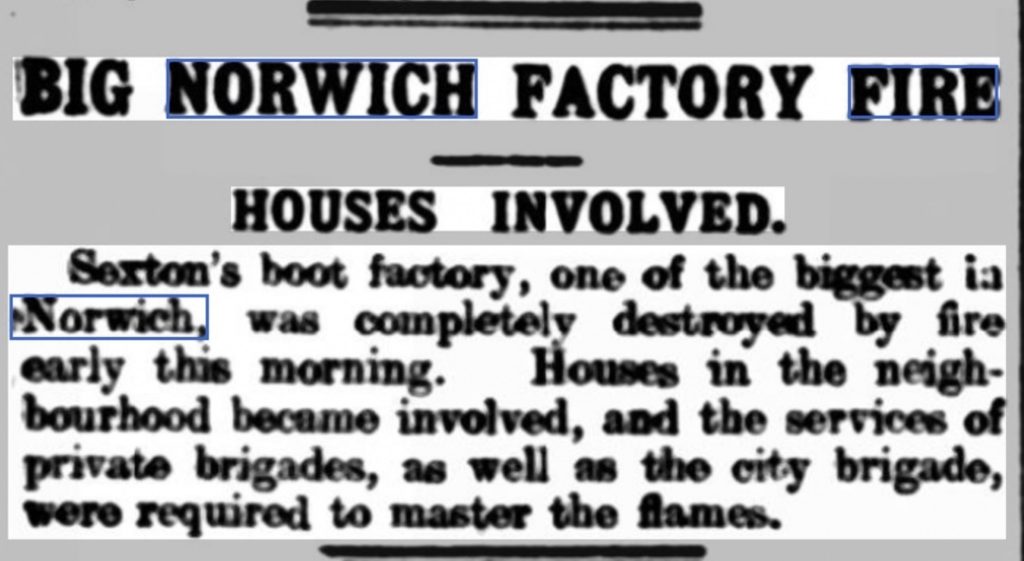 Two things I cannot answer, why was the postcard written in code? and why is it a postcard of St Austell in Cornwall when it appears to have come from Margaret who must have been in Norwich to have seen the fire?
I've not been able to source any further postcards between Margaret and Henry but I will make my tree, I've worked up for them, public at Ancestry and add the photos and clippings I have collected in the hope a family member is interested. 
Happy World Postcard Day 2022!

Send to Kindle