I love seeing updates at the DNA sites – Sometimes looking at results in a different way can give you new insights to your DNA and your family tree.
I really like the new format and DNA Story at Ancestry – now I can see 
my Ethnicity & Genetic Communities all in one place.  I think it is much clearer.  I also like that "Ireland" is now "Ireland/Scotland/Wales" as it was often confusing for people to see that they were in the "Ireland" category, even though they knew they had Scottish or Welsh ethnicity.
My sister, however, has no Genetic Communities – so she has no regional areas in her Ethnicity Estimate.  She is my full sibling, but we have quite different Ethnicity due to the randomness of DNA inheritance.
So at a glance I can see my ethnicity and any regional breakdowns based on the Genetic Community methodology.  Ancestry have a great whitepaper on the Genetic Communities – it can be found here: 
So my story starts in 1725 (this could be different for you, based on your regional breakdown.  My sister with no regional breakdown starts at 1700).  In 1725 I have direct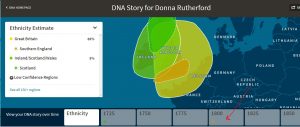 ancestors in my tree that were in Scotland and England.  These have been pinned onto the map for me.
Your direct ancestors will be pinned to your map, based on the time period in your tree (and the location you have used in your tree).
NB:  Locations can be tricky – if you get them wrong then your map will be wrong!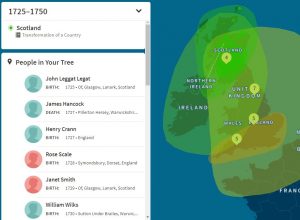 I try and follow good practice with Location names – using "town, county, country".   Missing out the country can be disastrous as many UK town and county names are also used in the US, the default location can become the US if you are not careful.
Clicking on the pins – I can drill down to all the names of people that are  in my tree in 1725-1750.
 One of those is James Hancock my maternal 7x Great Grandfather.  We have done some Y DNA testing on this branch and confirmed we are indeed related to the Hancocks of Pillerton Hersey in Warwickshire.
Moving along the timeline to 1750 I now have an ancestor popping up in Northern Ireland.  This is William Rutherford, my paternal 5x Great Grandfather.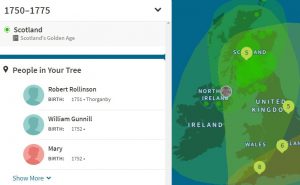 We suspect our Rutherfords were part of the Ulster Plantation as Y-DNA testing does show them to have been from the Scottish borders (but I'll save that story for another blog).  For now I have a paper trail for William that goes cold in Annahilt, County Down.
By 1800-1825 I have a lot more direct ancestors in my tree, from a genealogy point of view records from this era are starting to be easier to find, so I have been able to get some branches back this far.  Interestingly my Southern England Genetic Community has also kicked in now, which seems to align with the fact I also have a lot more ancestors popping up in Southern England.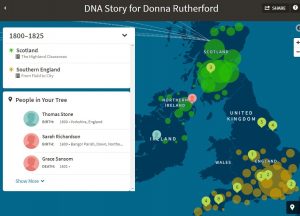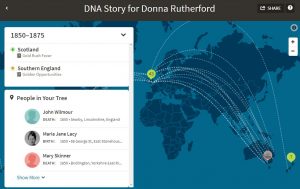 Although the world has started to see migration (see the dotted lines at the top of the map) – at this point of time my ancestors are still firmly planted in Ireland, Scotland & England.   In a few years time, many of them will be heading off to New Zealand!
Skipping ahead a few years to 1850 I can see that some family have now left England and are down in Australia and New Zealand.  If I look at the time period under the Regional Breakdown – I see this was a "Gold Rush Fever" and "Golden Opportunities" timeframe.    If I click on those I can read about why people were migrating.   It may even explain why my family left for New Zealand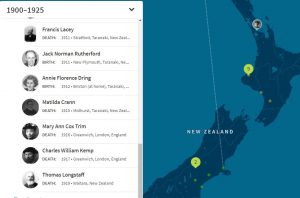 By 1900 I have 20 direct ancestors alive in the world – 8 of them still in the UK and 12 of them now in New Zealand.
Zooming into the map, I can see where the 12 of them lived.  By this point in history 3 out of 4 of my grandparents were in New Zealand, with my Paternal Grandmother still in London.
1925-1950 all my Grandparents are now in New Zealand and only 2 direct ancestors remain alive in England.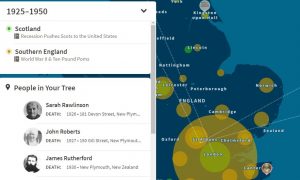 One in Hull (my maternal Great Great Grandfather Robert Dring who died in 1937), and one in Dover (having moved from London) my paternal Great Great Grandmother Minnie Frith who died in 1939.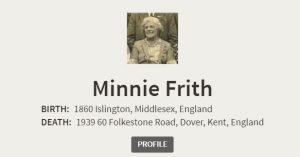 By 1950 all my direct ancestors where living in New Zealand.  15 of them were alive.
I  have also seen some kits where people belong to a "Migration".  However as none of my family fit into a Migration,  I'm showing an example here for illustrative purposes only, this is not from my DNA story.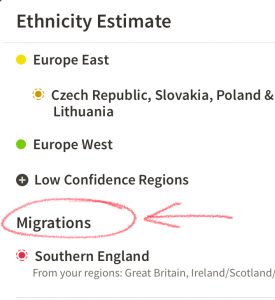 So that was a tour of my new DNA story at Ancestry – where my family started, and how and when they migrated. Along the way I've been able to read about what other people within that region were doing.  For example I read that in 1925-1950 Scotland was in recession with many people moving to the United States.  This information was really interesting as many of us, including myself, see a lot of DNA matches that are living in the US.   Even more interesting I have a Scottish mystery around who exactly was my 3x Great Grandfather, just recently I believe I may have now solved the puzzle thanks to a DNA match in Los Angeles, California … indeed the Robertson descendants left Scotland for the United States.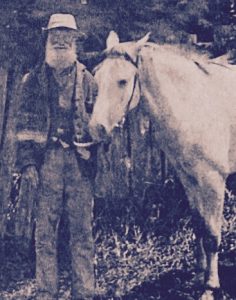 Ancestry also have a great support site to help understand all the detail behind the new DNA Story – you can find that here:  https://www.ancestry.com/cs/dna-help/communities
Well my 1725 – 1950 story seemed to go quite fast and now comes to a close – but fascinating that we can see it like this as result of our DNA tests.
What does your DNA story look like?

Send to Kindle